So, as I sit watching the New York Knicks
& Brooklyn Nets
 play on TNT right now, I can't help to realize that both of these teams have so much further to go to truly be elite in the NBA. 

But what about in New York itself? 


New York Knicks J.R. Smith taking it to the basket against
Joe Johnson & the Brooklyn Nets. 


The NBA has always had a great base in New York with the history of the Knicks, going back to the 70s and in the 90s with Ewing, Starks, Davis & those boys having wild games against Jordan's Bulls, Reggie Miller's Pacers, Alonzo Mourning & the Miami Heat, etc. 

The league has had the Nets in New Jersey for many years, going back to the ABA with Dr. J & with the Jason Kidd-led New Jersey Nets that went to 2 straight NBA Finals in the 2000s. 

But now, the Brooklyn Nets & New York Knicks are both bad right now & I hear all about the New York City basketball pride & all, but these two teams have not lived up to the hype, and I can't firmly say if we will actually get that great rivalry at any point.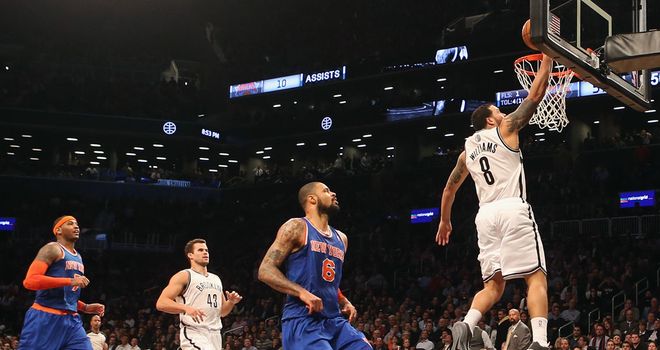 Brooklyn Nets guard Deron Williams with the layup
against the New York Knicks. 


The teams are both struggling right now, and for the Knicks, there is talk of Carmelo leaving next year for the Los Angeles Lakers or Chicago Bulls, and with the Nets, Kidd is a first time coach and is too busy spilling drinks during games & doing everything else to try to give his team some kind of spark, & the injuries both teams have dealt with have left both squads not in their playoff form of a year ago yet, & who knows if that is coming anytime soon. 

In New York City, basketball is religion there, the same way that Texas is about football. On the playgrounds, in gyms, in the famed Rucker Park – college, high school, NBA, & regular recreation league players love to make a name for themselves in New York to show off their skills and have dreams & aspirations to play in Madison Square Garden, or for the new generation of players, the new Barclays Center in Brooklyn. 


Rucker Park in New York City. Many legends such as
Julius Erving, Kobe Bryant & Kevin Durant have played
on this court. 


The passion in New York City for basketball is insane, & for the league to have two poor teams right now in the #1 media market is not good for the league at all. Last season, the buzz for the Knicks & Nets on opening night was one that I had never experienced before. The instant rivalry was built & I knew I wanted to watch that because I knew I was going to see very passionate, fiery basketball, the type that you only see in the playoffs & the finals now. 

Please Knicks & Nets, give New York City & fans around the league that type of basketball that has made NYC the mecca for the sport.