This is the first of our 4 NBA conference semifinals previews at the DraftKingsMaster blog right now as the we look at the Los Angeles Clippers taking on the Oklahoma City Thunder. First, here are the schedule of games for the series:
Game 1 – Monday, May 5 – 9:30 on TNT
Game 2 – Wednesday, May 7 – 9:30 on TNT
Game 3 – Friday, May 9 – 10:30 on ESPN
Game 4 – Sunday May 11 – 3:30 on ABC
Game 5 – Tuesday – May 13 – TBA on TNT
Game 6 – Thursday, May 15 – TBA on TNT
Game 7 – Sunday, May 18 – TBA
This series is going to be a true heavyweight fight with great players across the board in CP3, Blake Griffin, DeAndre Jordan, Kevin Durant, Russell Westbrook & Serge Ibaka. All players listed are among the best in the NBA right now & are all championship level players at this point.
From an overall view, the question will be which team has new resolve & is not as fatigued from their grinding series both teams just went through in the first round. This point will be especially important on the Clippers, who dealt with so much off the court as well as on the court.
We are going to break down the series from each individual position on the court as well as the bench areas.
Point Guard – Chris Paul vs Russell Westbrook
This is a marquee matchup that true NBA fans will absolutely eat up all series long. For this series, though, as a bit of a surprise, I am going to give the advantage to Russell Westbrook simply because Chris Paul's hand is injured, no matter what anyone tries to tell you. He wasn't fully healthy from the midway  point in the Golden State Warriors series all the way to the end.
On Stephen Curry, Curry was simply being a jump-shooter so either Paul could just get a hand in his face or switch off & let a bigger defender deal with Curry. With Westbrook's quickness & agility to get to the basket better than anyone else, Paul is going to be using a lot of energy on defense staying in front of Westbrook & chasing him around, which could affect his offensive game from a pure shooting standpoint.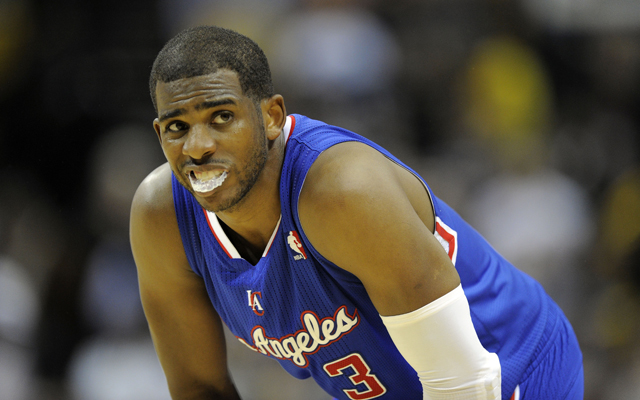 Against Paul, Westbrook will have to make sure that he continues to play with the same confidence he did in game 7 against the Memphis Grizzlies, however, he has to play within himself. He can't become a ballhog & take so many insane shots, thus becoming a volume shooter & shooting OKC out of the series.  Westbrook was able to get teammates involved early & often & showed his usual quickness off the dribble.
CP3 has some of the quickest hands in the league when healthy, & while Westbrook is prone to turnovers from time-to-time, Westbrook is coming into this healthy, CP3 isn't & that is what it really comes down to.
 Shooting Guard – J.J. Redick vs Thabo Sefolosha
In this playoff run, J.J. Redick has been a clutch shooter from the three-point line on a day in, day out basis, especially during the dry patches when CP3, Blake Griffin & others might be in a bit of a stretch of an offensive slump during a game.
Sefolosha is a far better defender overall, but this is not the matchup that will end up deciding the series in the grand scheme of things.
I will give the edge to Redick just because of the three-point shooting, but both of these players can easily cancel each other out over a 7-game stretch.
Where this matchup could be interesting is if Jeremy Lamb starts for the Thunder, which would give a full advantage to the Thunder in this position because Lamb has been a clutch role player all season long & has been instrumental is giving OKC a fourth legitimate scoring threat outside of Westbrook, Durant & Ibaka.
Small Forward – Matt Barnes vs Kevin Durant
OK, we know this isn't really a contest, Kevin Durant is the NBA MVP & quite possibly the best all-around player in the NBA. But where Durant can be slowed down (stopping him just is not going to be an option) is that Barnes can be a bit chippy & can get dirty from time to time.
The only chance that Barnes will have guarding Durant will be to bump him a bit & really work to not allow Durant to be open for the ball & if he does get it, to get a hand in his face & get Durant into the mindset of only being a jump shooter for the entire series, similar to how the Grizzlies' Tony Allen was able to bottle up KDTrey for the first 5 games of the series.
However, that is all easier said than done. Durant is playing at a whole new level right now & is playing with a new sense of passion & determination after the fiasco with the newspaper cover at the end of the Memphis series. Durant will be looking to show why he is the MVP in the league over LeBron James & I see Durant putting up between 30-40 points each night & absolutely showing dominance in this series.
Power Forward – Blake Griffin vs Serge Ibaka
This is going to be a very exciting matchup for many reasons. Blake Griffin is playing some of the best basketball of his career right now. He has shown leadership off the court as well as on the court. He has expanded his game into being more consistent with the jump shot, finding teammates with the passing game & playing solid defense all the way around.
He is able to establish position at the low block as well as the top of the key, & while he isn't a consistent threat yet, he is a player that Ibaka will have to come out of the post to guard & get a hand in his face on a consistent basis.
Where Ibaka, from a defensive standpoint, has an advantage is that he is one of the most dominant defensive players in the low block since Dikembe Mutombo when he was with the Denver Nuggets back in the day. If Griffin tries to get position & go hard to the basket, outside of a monster dunk attempt, Ibaka's shot blocking & shot changing ability could pose problems for Griffin in terms of getting into any kind of rhythm.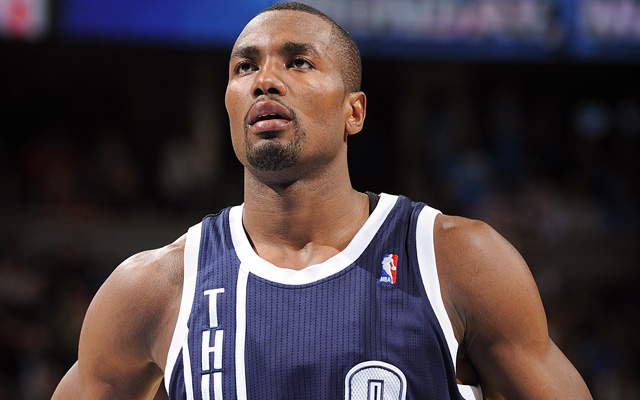 With the confidence that Griffin is playing with right now, Ibaka is best suited to try & make Griffin a jump shooter, or on offense, make Griffin get into foul trouble by doing the reverse & having Blake come out to the top of the key to guard Ibaka, who is one of the best top-of-the-key & baseline jump-shooting big men in the NBA.
What I expect Ibaka to do is to go after Griffin early, get him into some early foul trouble & force the Clippers to make a decision on whether to keep Blake on Ibaka or make a switch & put DeAndre Jordan on him & hope that the length can bother Ibaka for a bit.
Center – DeAndre Jordan vs Kendrick Perkins
Kendrick Perkins is one of the toughest men in the NBA in terms of size, strength & the ability to throw someone off of their game completely. With Jordan not being a threat in the post for traditional scoring, the challenge for Perkins will be to keep Jordan off of the rim & getting alley-oops from Griffin & Paul & tip dunks all night long.
Perkins will also need to have even the slightest offensive game so that Jordan will have to guard Perkins one on one as opposed to going to help on Durant, Westbrook or Ibaka.
Jordan should have the advantage in this series for the reason that it should be 5 against 4 on the offensive side in favor of the Clippers & Jordan's shot blocking & rebound ability will be a big factor for the Clippers in terms of stopping the Thunder from getting to the basket at will.
Los Angeles Clippers Bench vs Oklahoma City Thunder Bench
While the benches aren't the deepest for either one of these teams, I will give the slight edge to the Oklahoma City Thunder bench because of having the championship experience with Derek Fisher & having better wing players that can make the Clippers work for a long period of time. When teams got into the Clippers bench, the team was significantly less threatening than when the starters were in the game & the Warriors were able to take advantage of those matchups.
This series should be no different really.
Overall, I believe this will be a 7-game series & I see the Oklahoma City Thunder coming away with a w & moving on to the conference finals. Too much depth & I can't say that the Clippers are not emotionally spent from the last series, I think it will be too hard to come back with the same energy & drive needed for a series of the magnitude.
[polldaddy poll=8023023]