Late Tuesday afternoon, the Detroit Pistons found their new head coach in former Orlando Magic & Miami Heat coach Stan Van Gundy. Van Gundy will also be able to be the head of basketball operations.
Van Gundy signed a 5-year, $35 million dollar contract to take the position. Van Gundy was also in negotiations with the Golden State Warriors to be their new head coach, but the Warriors were not offering the president of basketball operations title.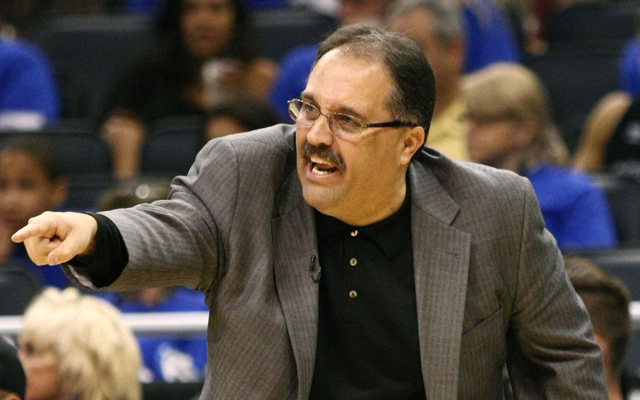 From a guy who has grown up watching the Detroit Pistons, this is the perfect hire for the organization & proves that owner Tom Gores is truly committed to winning at all costs, as he said when we first came to town.
Van Gundy has a bit of a reputation for being a bit of a tough guy & may ruffle some feathers, but this group of Pistons definitely needs that kick in the butt in the worse way. The team has to figure out what to do with dead money on the roster – ala Charlie Villanueva, Rodney Stuckey & if they are going to resign Greg Monroe. The Monroe situation will be the most pressing right now as the team has the potential to have one of the best big men combinations in the league in Monroe along with an emerging Andre Drummond.
Van Gundy will also need to figure out how to either make Josh Smith a smarter player or figure out a way to possibly trade him for some good pieces. Van Gundy emphasizes defensive play & outside of Monroe & Drummond, the Pistons are an absolutely terrible defensive squad.
The Pistons should be in good position to have a solid draft pick in the upcoming NBA Draft, which will be held in June. Later this month, the league will hold the NBA Draft lottery, which will give the position of where a team will pick. With a deep draft class this year, Van Gundy will have an early opportunity to put his stamp on this organization with the type of player the Pistons bring to Auburn Hills that night.
The last time the Pistons had a rough head coach in town, current Dallas Mavericks coach Rick Carlisle was in charge. Carlisle won though, which was all that mattered. The big difference was that Carlisle had his very brash attitude with a group of veterans, Van Gundy will be with a bunch of young guys who don't know any better right now.
With Van Gundy having full control over basketball operations, for the first time in years, the team will have a sense of healthy fear for their jobs, which is desperately needed in this organization.
I have a funny feeling this Pistons team will be turned  around faster than we think. Good luck SVG.