For those of you who have watched wrestling for any amount of time, you know that the women of WCW, TNA, ECW & WWE have made a huge impact on the industry. Not only are they beautiful, but many can perform well in the ring & also be strong role models for many young women across the world.
This countdown will look at the top female wrestlers of all time in terms of performance, looks & overall impact on the business. Some of the divas that will be on the list will be listed by what they were in a particular promotion & will be ranked based on that. For example, Lita was absolutely stunning in ECW & she may be ranked for just that, & ranked again for her WWE run as even more influential & hot at that point, also. Get all of that? Okay nevermind, im just going to be quiet & get to the countdown.
 25. Jazz (ECW, WWE)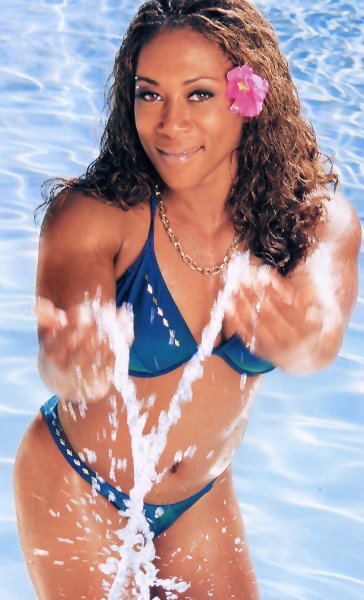 Jazz got her start in ECW, having matches against Jason & being the muscle of the team of Justin Credible & Lance Storm. The rising superstar then moved to WWE, where she became a WWE women's champion & had memorable matches with Trish Stratus, Lita, Victoria & Mickie James, among many others. She quickly established herself as one of the top divas between 2002-2007.
24. Debra (WCW, WWE)
Debra McMichael was a valet/manager for Steve McMichael when McMichael first got to WCW. During the time in WCW, Debra & Steve, who were legitimately married, got a divorce & shortly thereafter, she went to the WWE in 1998 & went back to managing Jeff Jarrett, whom she had managed towards the end of her run in WCW. During her time in the WWE, she was a manager of Jarrett & Owen Hart, & became known for her revealing outfits, with her role as distracting opponents with her body & was one of the most lively personalities in the company.
She came back to the WWE in 2000 when she was married to Stone Cold Steve Austin, & became an on-camera supporter of Austin in the "Alliance" angle. She left WWE in June 2002 & was out of the business completely.
23. Maria Menounos
Menounos is one of the hosts of Extra! with Mario Lopez. She is on this list because of her involvement with the WWE at Wrestlemania 24 in 2008 as part of a tag team match with Kelly Kelly as her partner against Beth Phoenix & Eve Torres. She also showed that she is a historian of the business. She gave an amazing story about Bob Backlund when she inducted him into the WWE Hall-of-Fame in 2013.
 22. ODB (TNA)
ODB has broken many barriers being in TNA. She was one of the first knockouts champions & one of the women who modernized hardcore wrestling for women with her aggressive, in your face style, which got over big with the fans. In 2011, she & TNA Heavyweight Champion Eric Young were tag team champions together, one of the few times in wrestling history that a man & woman were co-tag team champions.
21. Beulah McGillicutty (ECW)
Beulah McGillicutty was ECW's version of Miss Elizabeth, but much more attitude. She was introduced to ECW when Raven brought her in as a part of one of the most intricate storylines in the company's history with Tommy Dreamer. She was able to get in the ring & have epic brawls with the other strong diva in the company, Francine. Her most famous moment, however, was an epic match with her & fellow manager Bill Alfonso, who was a manager for Rob Van Dam & Sabu.
20. Kharma/Awesome Kong (WWE, TNA)
In a business where most of the women are blond, mostly Barbie dolls, Awesome Kong (Kharma in WWE) was one of the women who broke the mold & was just as intimidating as any man (& stronger than most). She was a TNA Knockouts Champion as well as a WWE Diva for a short time. She didn't stay long in the WWE, but she made a huge impact by being a surprise entrant in the 2012 WWE Royal Rumble.
19. Ivory (WWE)
Ivory may be a name that many people forget about, but she was one of the pioneers of the "WWE Divas" era of women's wrestling. She was one of the most beautiful women in the company, but she was strong, took charge in the ring & could be considered a true ring general.  Ivory was a former WWE Women's Champion & a member of the faction, "Right To Censor."
 18. Jacqueline (WCW, WWE, TNA)
Former WWE Diva, WCW valet & TNA Knockout Jacquelyn has had one of the most storied careers in the history of the wrestling business. She has been the WWE Women's Champion on multiple occasions, competing in a period where the women's division was quite possibly at its peak, with Trish Stratus, Lita, Gail Kim, Mickie James & Jazz all in the company.
Before coming to the WWE, she was a valet with the WCW tag team, Harlem Heat. She completed her career with a brief run in TNA.
 17. The Beautiful People (Velvet Sky & Angelina Love) – TNA
The Beautiful People are one of the most successful groups – men or women – in professional wrestling. They bring a sense of sexiness to TNA & an easy heel group to hate against. When Angelina Love left TNA for a time, Velvet Sky picked up her game & became a strong singles wrestling, becoming a TNA Knockouts Champion. Currently, Love is the TNA Knockouts champion.
Come back Friday when we reveal the second part of the list!