With the AT&T Center in San Antonio having a major malfunction of the main air conditioning unit in the building, the San Antonio Spurs showed their ability to work through adversity, overheating & no LeBron James in defeating the Miami Heat in game 1 of the 2014 NBA Finals.
Overall, the game was a very well played game across the board by both teams, but in the 3rd & 4th quarters, the Miami Heat were extremely affected by the overheating in the building, particularly LeBron James, who cramped up badly in the 4th quarter & wasn't on the court for the majority of the end of the game.
This is not to take anything from the Spurs, who shot amazing in the 4th quarter & couldn't be stopped, but the question has to be asked of what would have happened if LeBron had been out there in the 4th quarter & fully healthy.
No matter what, the Spurs overall talent took out the Heat tonight, even with the inclement conditions. However, the next two days off has to call into question the condition of the AT&T Center – first bats, then a snake in the lockerroom earlier in the season, now bad air conditioning unit? For a building that is supposed to be one of the newer ones in the NBA, this is unacceptable  on a lot of levels. Now ESPN & NBA TV will be talking about how the game didn't mean as much & the game would be different without the Heat issues, etc.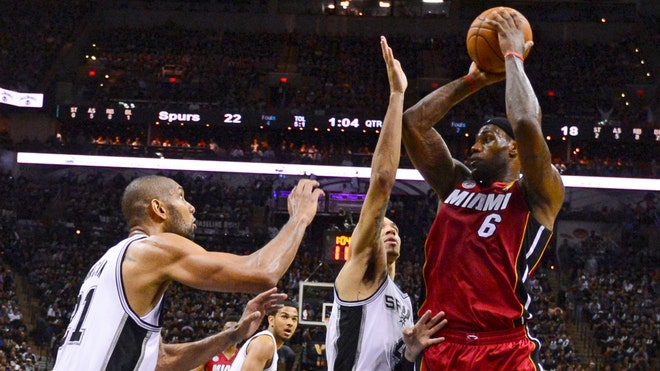 Duncan, Parker & Ginobili were outstanding for the Spurs & Danny Green had 3 3-pointers during the 4th quarter & the Spurs were absolutely doing what they had to do to be successful. No one will feel sorry for anyone in the NBA Finals, but the organization has to be better when it comes to situations like this.
As Popovich said, "Hope the building paid their bills."