On Tuesday, former Los Angeles Lakers & Oklahoma City Thunder guard Derek Fisher, a week after playing in the NBA Western Conference Finals, become the new head coach of the New York Knicks, signing a 5-year, $25 million dollar deal.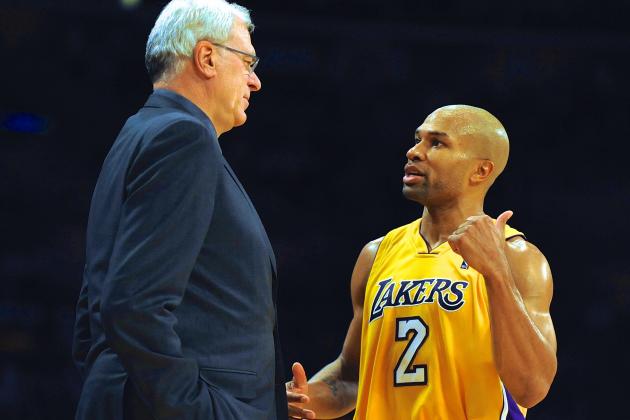 This seems to be the new trend in the NBA, like most things in sports that works out well at some point, teams saw what Jason Kidd was able to accomplish with the Brooklyn Nets in his first year, & now everyone wants a former point guard with no experience to run their team. Derek Fisher, step right up & welcome to the biggest media market in the world.
Fisher, who has won 5 NBA Championships with the Lakers, is one of the best leaders on the court & off the court, as he was a former leader of the NBA Players Association, & was instrumental in the most recent rounds of labor negotiations for the league. While Fisher wasn't always the loud, boisterous type, he was a throwback to the old school style of basketball in terms of his playing style, not afraid to take a big shot & making sure that everyone – including Kobe Bryant – was in their place & ready to succeed at every point.
The New York Knicks are going to need that greatly. Knicks President (& Fisher's former coach) Phil Jackson has been looking to make a splash since he got to New York City. He missed on getting Steve Kerr, who wanted the guaranteed 5th year, but the Knicks said no, but give it to Fisher? What is the difference betweeen Kerr & Fisher? Nothing. They are both former point guards who have won championships with Phil Jackson, they would be taught the triangle offense in terms of how to coach it, & both are born leaders.
With Fisher, however, he may be a bit more ready for the limelight & the scrutiny that will come with coaching the New York Knicks, but that scrutiny could be a bit less if he is able to convince Carmelo Anthony to sign a long-term deal with the Knicks. The Knicks have terrible salary cap space, especially if Amare Stoudamire uses his player option for 2014-15.
Oh yeah, the New York Knicks have ZERO first round NBA draft picks this year. This is going to be a team that Fisher has to mold the pieces that are currently in place to be a team that can win & be competitive. Mike Woodson had the Knicks on the doorstep of greatness in 2012-13 when the Knicks won 54 games, but things went completely backwards when the 2013-14 Knicks team failed to make the playoffs. Yes, players were injured at times, but Woodson had also lost the team about halfway through the season. Only at the end were players ready to fight for a playoff spot, but by that point, it was far too late.
Many analysts aren't expecting the Knicks to win this year, but if Carmelo leaves this summer for the Bulls or Lakers, it will be an extremely difficult road back to NBA respectability. My guess is that Fisher isn't taking this job without some kind of assurance that Anthony will at least opt in for 2014-15. But, many Knicks fans probably hope that some players like J.R. Smith, who is due roughly $8 million next season, would opt out of his deal to redo some of the culture of the team & get more guys in the fold who are true team players.
Fisher is going to have a challenge in making the players buy into a winning culture, which Fisher has pretty much always been a part of through most of his NBA playing career. With Kidd in Brooklyn, he had true leaders on the team in Kevin Garnett & Paul Pierce to help with the youth movement in Brooklyn & help coach from the court. If Fisher can find the person who has that true leadership ability to help him convey his message on the court – the same way Fisher, himself, helped many of his coaches through the years – he will be okay. Judging on how the Knicks responded to adversity last season, not one New York Knicks player – including Carmelo Anthony – showed any heart or passion through the tough times last season, & that has to change in order to be successful.
Fisher has a golden opportunity to be a hero in New York City, but we know he has the heart, we know Phil Jackson wants to win – can he help the players have that same desire? That will make or break his new leadership position.