The San Antonio Spurs came into game 3 of the NBA Finals on Tuesday night with a purpose. Shoot & score. And do it often. They did. The Miami Heat had absolutely no answer for Ginobili, Parker, Green or Leonard.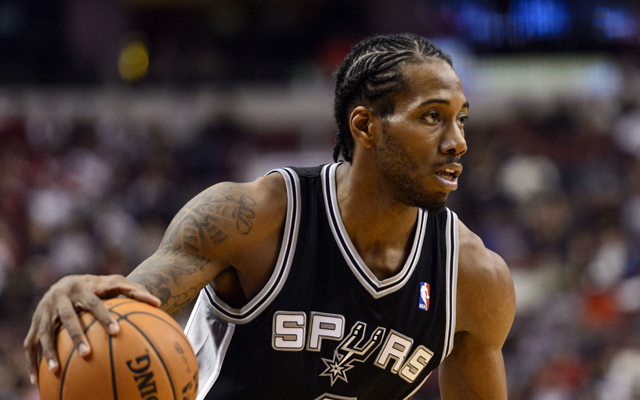 The final score is not indicative of how absolutely bad the Heat were outplayed by the Spurs on the offensive & defensive ends all night long. In the first quarter, the Spurs scored 41 points, the second most in one quarter in the NBA Finals.
LeBron James did his absolute best to keep the Heat into the game, but the Spurs had a great strategy in that they let James get his but they closed out well on Chris Bosh, Ray Allen, Dwayne Wade & others all night long, & never allowed Miami to get into the game or make a substantial run that would make the Spurs sweat at all.
The Spurs played their most dominant game of the entire NBA Playoffs on Tuesday night, & they played with a strong purpose – they knew that they lost game 6 & game 7 last year in the NBA Finals & tonight, they sent a message to the Heat that they remembered those games & they will not be in the same position this year.
The player that impressed me the most was Kawhi Leonard, who was completely explosive all game long & quieted the doubters who felt that he wasn't playing up to potential as he did last year in the NBA Finals. Leonard was incredibly aggressive & it seemed as though the Heat had little to no defensive answers for Leonard or anyone else on the Spurs roster.
In the first quarter alone, the Spurs shot 16-18 from the field. Offense like that comes once in a lifetime & there isn't anyway you are beating that, flat out. The Heat defense was okay, could be better, but the Spurs were absolutely unconscious from the opening tip through the end of the game.
At this point of the NBA Finals, its about adjustments, & I expect the Heat to respond by closing out most of the 3-point shooting of the Spurs & force Tim Duncan & Thigo Splitter to be the guys to beat them consistently on the inside. Game 4 will be the most important game of the series. If the Spurs win, that is it. The Miami Heat will not be able to make a run of 3 straight wins to get to an NBA Championship. Not against this Spurs team. Not against this level of determination.