The Los Angeles Lakers finally got over their weird melodrama of not having a coach in place since the end of last season – April 2014 – by finally hiring Lakers legend Byron Scott to a 4 year, $17 million dollar deal.
Only problem is that Scott is left to either sink or swim. There will be no treading water in Los Angeles, even though he has a roster that will be lucky to get to 35 wins next year in a highly competitive NBA Western Conference.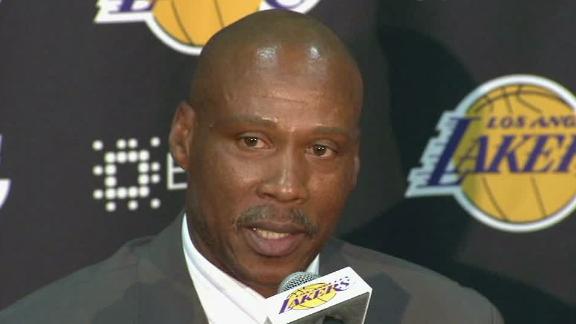 In most NBA cities, when a team brings back a local legend, the city gives him time to succeed. Scott is not coaching in a normal city, which he knows as well as anyone. He is coaching in the #2 media market in the United States, a team with decades worth of NBA Championship banners in Staples Center, a team who recently can't even be the #1 team in the city of Los Angeles – or even the best basketball team in the Staples Center & a team with one of the greatest players of all-time in Kobe Bryant, who may not know that he is getting older & may have some serious tread on his tires.
The Lakers love to make headlines & be the NBA's version of a great Hollywood film. Unfortunately, the Clippers are the team who have the compelling storylines, whether for good or bad reason & the Lakers have become – wait for it – an afterthought to many fans in the city of Los Angeles.
Scott's role as head coach will not only to keep the Lakers' players focused on the ultimate goal of winning an NBA championship, but bring the spark & sizzle back to Staples Center. Bring the fire of what its like when people around the country watch games & see the big celebrities at the games acting like they are real NBA fans when they are only really there just to get seen on TV to show that they are a "real person," & a "real" sports fan like everyone else.
Another role that Scott will need to fill, before we even look at the players, is keeping the ownership of the Lakers out of massive scrutiny & digression of basketball sensibility. Its no secret that Jeannie & Jim Buss have been at odds at times with each other when it comes to players & especially when it comes to coaching, especially when now New York Knicks president Phil Jackson was available to become the coach of the Lakers or even president of the Lakers & the squabbling between the two (keep in mind that Jeanie is engaged to Jackson) is what stopped it from happening.
The team went through Mike Brown, Mike D'Antoni & Bernie Bickerstaff, all of which were not the guys who were going to take the Lakers to the next level of being back to what they were in the early parts of the decade. Scott will have pressure to win & win now to justify the team's choosing of him as coach & to appease the Lakers legends who are clearly behind the hire with guys such as Magic Johnson, Kareem Abdul-Jabbar & others being at the Scott press conference earlier this week.
Along with the team's issues with the head coaching position, the Lakers have to look at their roster overall & im sure one of the big questions was how Scott's coaching philosophies can help bring this team into prominence.
Obviously, the main player Scott has to win over is Kobe, who apparently does respect him quite a bit, which will be a great sign early on. But it is clear that Bryant will also need to work with Scott, as well. Bryant has to understand that he isn't what he used to be & may be a bit slower coming off of ACL surgery & coming back far too early last year to try to help an aging Lakers team get back to the playoffs. If Kobe can put aside the ego just a bit & really work within Scott's system instead of just trying to win every game on his own, at this point in his career, it would suit him more to not stop being the leader, but to understand that he has to help build the future of the organization & it starts now.
The issue could be Bryant's contract, has he will receive $50 million over the next two seasons, basically a "thank you" from the Lakers organization for what he has done & to make sure that he will be a Laker until he retires. I had some thought at times that he might try to go to the New York Knicks to play with Carmelo Anthony & under Phil Jackson there if the Lakers aren't in position to win a championship, but that contract pretty much makes that idea null & void.
Outside of Kobe, the Lakers roster has had some interesting improvements this offseason. The team traded for Jeremy Lin from the Houston Rockets, signed Carlos Boozer after the Chicago Bulls amnestied him, drafted Julius Randle in the NBA Draft out of Kentucky with their top 10 pick, the first time in basically forever that the Lakers had such a high pick. The team also re-signed Nick Young to a 4-year contract, who I am not sold is the type of player that can truly be a strong, consistent championship player due to his odd ways & sometime lack of focus on the court, which would absolutely drive Kobe absolutely insane. But through all of that, the team lost a rock in Pau Gasol, to aforementioned Bulls.  That is a move that could show up as a big loss for the Lakers early on because of the leadership that Gasol brought to the team when Bryant was recovering from his injury.
Scott will need to weave through the situation with being around a young team & convince the team of the Lakers' legacy & that losing is not accepted in Hollywood.
With all of that on the plate, yes, Scott's plate will be full early on, but if anyone knows how to get the most out of a team & can live up to the high expectations of the organization and fans, its Byron Scott.
Hollywood loves a great comeback, right?
[polldaddy poll=8216546]