When the next few pieces I write about regarding the NFL in week 7 are published, you will understand a couple of things – Peyton Manning is the best of all-time, the Detroit Lions are for real; so are the Dallas Cowboys & the Oakland Raiders along with the San Francisco 49ers are done. With that said, here is the DraftKingsMaster review of the NFL for week 7.
Peyton Manning Breaks Brett Favre Touchdown Record. In Style.
On Sunday Night Football, the biggest story of the week – and NFL history – unfolded as Peyton Manning broke the legendary Brett Favre's NFL touchdown record for a career with his 4 touchdown passes, beating the San Francisco 49ers, who are having major problems of their own, 42-17, in a game that was clearly decided in about the first 10 minutes of the game.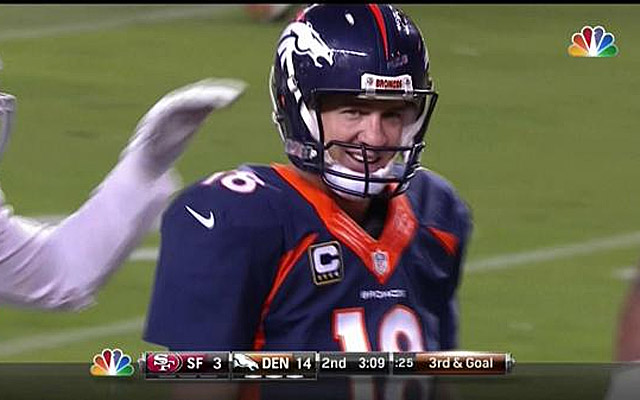 Many people will always say that Manning can't be the greatest of all time because of his inability to win in the NFL playoffs, which is funny because he does have a SuperBowl ring that he won in SuperBowl XLI when the Indianapolis Colts defeated the Chicago Bears. Manning has led the Colts & the Broncos to the conference title games before & yes, he only has one SuperBowl ring on his record in 3 appearances, but at least he has been 3 times. Ask Dan Marino, Jim Kelly & Dan Fouts if they would like to have even the chance to have one SuperBowl ring. Marino went to the big game early on in his career & never got back. Kelly went 4 times & didn't get the job done & Fouts was a great passer but didn't get to a SuperBowl.
For Manning, this accomplishment is extra special, especially when you consider that the man almost didn't come back to the NFL because of a severe neck injury that took out his 2011 season & ended his career in the Colts organization. He believed in Denver Broncos President John Elway when Elway recruited Manning to be the new face of the Broncos franchise, almost eclipsing the great career that Elway had in the Mile High city.
People can put Tom Brady, Drew Brees, Aaron Rodgers & Andrew Luck into the conversation into who is the best in the game today, but no player has ever had the impact on whether a team was successful or not has Manning has had on the Colts & on the Broncos. Manning calls his own plays, you rarely hear about the offensive coordinator in Denver. Any team trusts Manning to run their organization.
100% of the time – that's a great business decision for any coach or executive.