Recently, the DraftKingsMaster loaded up the WWE Network & of course, checked out for old school WCW stuff. This week it was Starrcade 1997, the big event that had Sting against Hollywood Hulk Hogan for the WCW title.
The entire event was based around this idea of Sting not wrestling for a year & coming down from the rafters all through 1997 & terrorizing the New World Order (NWO), the big wrestling group that was all the rage from 1996-1999. WCW did an angle that wrote Sting off TV where in the War Games the year before, WCW didn't trust him to be on their team against the NWO in the match.
Sting gave the perverbial up yours to the "top guys" in the company & decided to go watch some Crow movies & come back as this crazy bad ass who would come down from the top of the rafters in all black & just whoop ass with a baseball bat in hand.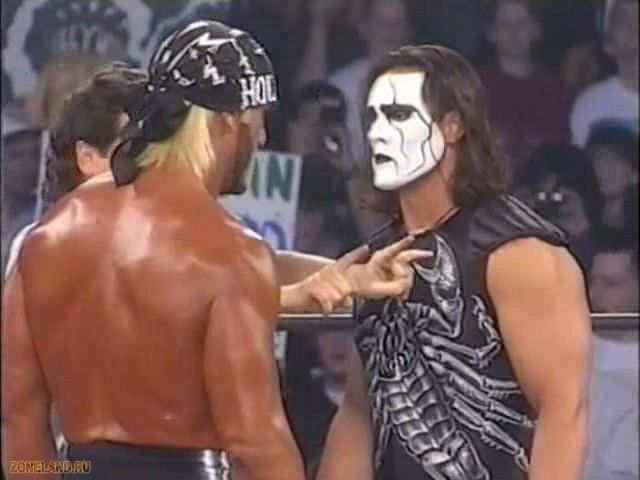 The event as a whole was kinda terrible, but the match itself was pretty entertaining, especially given that Sting hadn't seen any in-ring action in over a year. It was very well worked & SPOILER…Sting wins the belt after Bret Hart, who had JUST come over from the WWE after the Montreal Screwjob at Survivor Series 1997, was the main ref & showed his allegiance for the WCW after being a "free agent" coming into the company.
If you watch this event on WWE Network – here are the parts to watch:
– Sting vs Hogan
– Larry Zbyszko vs Eric Bischoff for control of WCW Monday Nitro……………yup….i know, but that really did happen.
– Eddie Guerrero vs Dean Malenko. Awesome match to start the show. Damn I wish the cruiserweights had more time to show their skills, but I digress.
The entire Sting/Hogan match is available below for your viewing.
http://www.youtube.com/watch?v=5Wr6N2lpQY8